Bracketed tournaments are a way to play against other players over the course of multiple matches. The winners of each match play against each other until one player is the overall tournament winner.
Players are able to re-enter a bracket from Round 1 once they've been knocked out by paying a new entry fee, provided there is still open space in the bracket.

Bracketed tournaments are paid out once the full tournament has been completed; If you're knocked out of a bracket with a loss, you will still receive the prize for making it as far as you did at the conclusion of the bracket. You can see your expected winnings at the top of the screen, as seen in the screenshot below.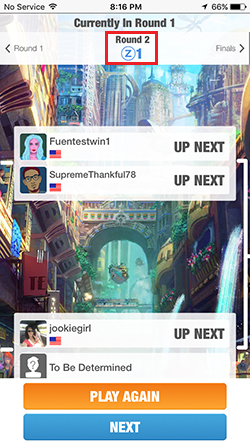 Please note: The Prize listed on the match select screen is a combination of total prizes, split between the top participants.