Ticketz are a virtual currency that can be used to redeem prizes. As part of our loyalty program here at Skillz, we award players with Ticketz through many different features of our games.
Ticketz are earned for every match you play, regardless of the outcome! You might also receive Ticketz as a prize for achieving a trophy, and sometimes you may get some in your Login Bonus/Free Gift.
You can always check out the Ticketz store page to check out everything we have to offer for our players!


To go to the Ticketz store:
Tap the three dashes in the top left corner of your in-app home screen to open up the Main Menu.

Select Ticketz.

You can also select the Store Tab, where you usually go to deposit funds to your Skillz account. It's the third tab on the bottom of your app screen, shaped like a shopping cart.

If you scroll down, you should see a section labeled 'Trophies & Ticketz'. Just tap on 'Ticketz' and it'll get you there as well.

You can also access the Ticketz store by tapping on your Ticketz balance at the top of the screen.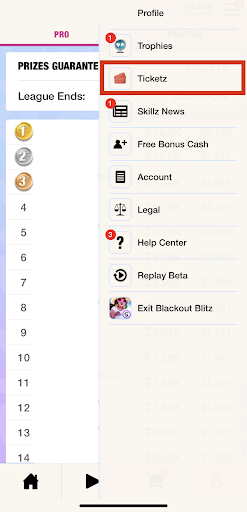 .
The amount that you play determines your Ticketz Multiplier, which can help you earn even more Ticketz. The Multiplier helps you rack up Ticketz even faster, multiplying the number of Ticketz you earn per match. For example, if your multiplier is 2x, you'll get twice as many Ticketz; if it's 3x, you'll get triple the amount of Ticketz, and so on.
One great perk of your Ticketz multiplier is that if you hit your multiplier in the middle of the month, you'll get your multiplier for the rest of that month, and the next!
For example, if you earned enough Ticketz in the middle of March to reach a 6x multiplier, you'll receive 6x the normal number of Ticketz for every game you play during the remainder of March and for all of April as well.
Please note that multiplier progress (number of Ticketz needed to reach specific tiers) resets at the beginning of each month. Fortunately, if you have a high multiplier, it's easier to get back (and/or retain) your current tier if you do get knocked out of your multiplier tier.
The Skillz platform is set according to UTC (Universal Time Coordinated), which means that many features, including this one, have an 11:59 PM UTC deadline unless specified otherwise.